About Us
The Game Glide design team is made up of whitetail deer hunters who hated long drags (sound familiar?). We are not as young or as in-shape we used to be… Also, my dad is now 62 years old and still will not allow us to drag his deer out. And he always gets big deer!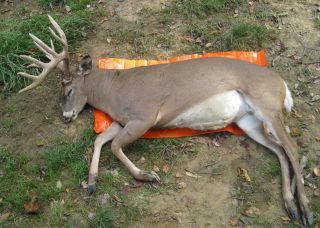 Most of us live in Southwestern PA and often hunt in Greene County. Here is a link to the US Geological Survey maps for Green County with Topo Maps. Greene County is well known for great deer hunting and steep hills.
It was not uncommon for us to have a 1 mile drag up and down hills. We have even daisy-chained multiple deer together and drag them out. Needless, to say we would often end up a sweaty stinky mess!
Figuring that that there had to be a better way, we looked at ATVs (too loud and too expensive), deer carts (too expensive, too noisy, and too difficult to bring into the woods), and reusable deer sleds (too heavy, too bulky, and a pain to clean afterwards). None of these solutions fit our needs better than the standard deer drag, so we decided to design a way to make the standard rope style drag better.
We patterned our design around the success and effectiveness of the Hot Hands® style disposable hand warmers. They are small enough to always have with you and they work when you need them to!
So, we designed the Game Glide around the hunters' needs for effectiveness, simplicity and light weight. So, our goal was to make a device that really worked well, but not to sacrifice of simplicity, ease of use, and light weight. It took us many years to find the right materials and to make the design simple enough that it could be attached in seconds and still be light enough throw into a pocket.
Eventually, through the use of innovative design and high-tech materials, we succeeded and the Game Glide was born!
Guarantee:
• We value each and every customer and want to foster long term relationships with you all. So if you are not satisfied with our product, then contact us. We will stand behind our product with a replacement or refund, at our discretion.