News
FOR IMMEDIATE RELEASE
Industry's First Ultra Light, Disposable Deer Sled Reduces the Effort Needed to Drag Game by up to 46%
The launch of the Game Glide ultra light deer sled defines a new market segment within the Hunting Accessories category
Cranberry Township, PA — GrandView Solutions, LLC. has announced the launch and immediate availability of the Game Glide – Ultra Light Deer Sled. Developed by Kathy and Jason Proch, the Game Glide is the first entrant into an entirely new segment within the Hunting Accessory category: the Disposable Hunting Sled segment.
The Game Glide works with your existing deer drag to make dragging up to 46% easier and surprisingly, this performance does not come at a significant cost or complexity. While there are other game carriers that could be used to aid in the transportation of the animal, such as ATVs, reusable deer sleds, wheeled deer carts, and other hunting sleds,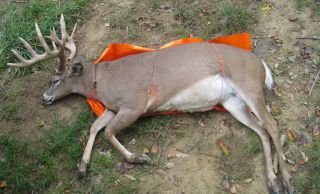 they are all more expensive, heavier, and more complicated. The Game Glide deer sled is made of an ultra-tough and slick material and though it weighs a mere 5 ounces and folds to a convenient 3.5" x 6.5" size, it unfolds to a size of 25" X 50", large enough to fit a trophy buck.
"I guide hunts for deer, turkey and hogs in the beautiful mountains of Sonoma County, California. To preserve our private land I don't allow vehicles in the forest. We drag out all game by hand. We often find ourselves a mile or more from the truck. The Game Glide has made it much easier to drag big game. The Game Glide's ultra light, compact design makes it unnoticeable in our packs and we won't hunt without one," says TJ, a guide from Running Wild Guide service. "It makes dragging significantly easier!"
"The Game Glide design took many design cues from the success and effectiveness of the commonly available, "activated heat pack", style disposable hand warmers. Like the hand warmers, the Game Glide is disposable, intuitive to use, and small enough to always have with you for when you need it," said Jason Proch, the lead Inventor and Product Designer for GrandView Solutions, LLC. "We designed this patent pending deer sled with you, the hunter, in mind. We focused on your need for simplicity, light weight, and effectiveness. Through the use of innovative design and high-tech materials, the Game Glide meets these goals at a price that every hunter could afford."
The Game Glide is available now for both end-users as well as retailer opportunities.
About GrandView Solutions, LLC:
Headquartered in Cranberry Township, Pennsylvania, GrandView Solutions LLC's mission is to bring creative new products to life and to help small businesses grow and prosper. Learn more about GrandView Solutions, LLC at http://GameGlide.com
For more information, contact:
GrandView Solutions, LLC
###