Product Info
Game Glide Deer Sled
Who Says That Great Things
Don't Come In Small Packages?
Dragging deer is the most dreaded part of hunting and it could even be dangerous to those in poor health.  While there are other tools that could be used to aid in the transportation of the animal (ATVs, reusable deer sleds, wheeled carts, etc.), they are all much more expensive, heavier, and more complicated, which may cause them to not work well for many hunters.
We designed the Game Glide with you, the hunter in mind.  We patterned our design around the success and effectiveness of the Hot Hands® style disposable hand warmers.  So, we focused our design on your need for effectiveness, simplicity and light weight.  Like the hand warmers, the Game Glide is small enough to always have with you, so that it is always there and ready when you need it!
Through the use of innovative design and high-tech materials, the Game Glide meets these goals, while making your drag much easier and your hunting experience more enjoyable.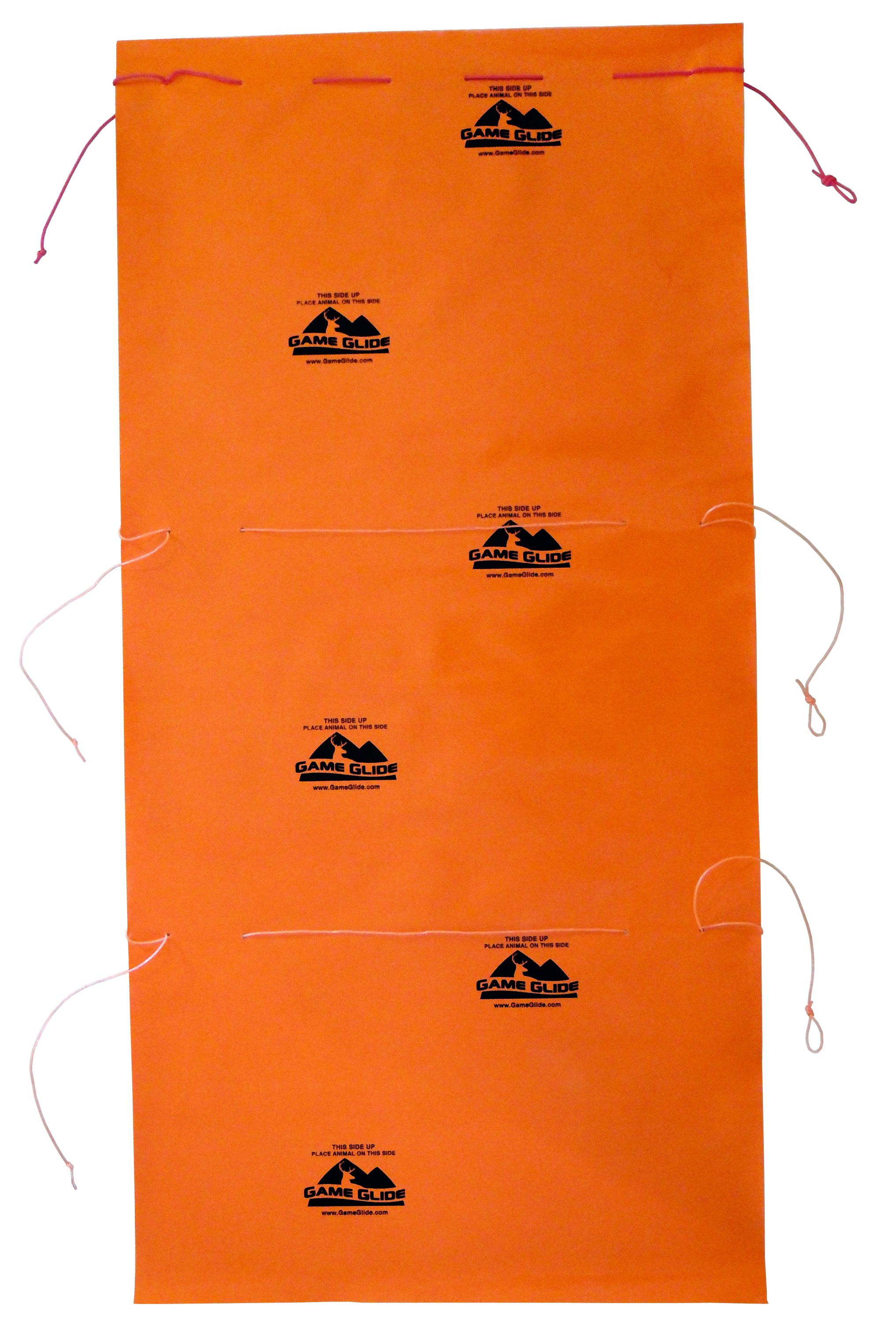 The Game Glide is:
Effective – Game Glide helps to keep the fun in hunting by
making the drag back to camp up to 46% easier.
Ultra Light – weighs only 6 ounces!
Convenient – when packaged the Game Glide fits easily into a pocket or pouch – folded size is roughly 3 ¾ inches wide X 6 ¾ inches long
Right size – unfolded size is 25 inches wide X 60 inches long  – will accommodate the largest trophy buck to a small doe
Quick and Easy to Use – intuitive to use and attaches in seconds with only 3 strings!
Simple – works with your existing deer drag, not in place of it
Innovative – so innovative that it's patent pending!
Disposable – no need to scrub and sanitize for reuse
Tough&Slick™! – made of a highly specialized, high tech material that is puncture and tear propagation resistant
Protective – will help to protect your trophy's hide from damage
Recyclable – after use, remove and dispose of the ropes and recycle the Tough&Slick material
Each year, an unknown number of hunters die unexpectedly from heart attacks and sudden cardiac arrests, brought on by the strenuous exercise and dramatic bursts of activity that hunting can bring. (source: Free U-M event at Cabela's aimed at hunters' hearts, University of Michigan Health System press release, July 31, 2008)
Physician's Warning: The Game Glide is a device that is designed to lower drag coefficients.  It is not intended to entirely prevent muscular or cardiovascular strain, which may result in serious injury or death.
The Game Glide is TRUE INNOVATION!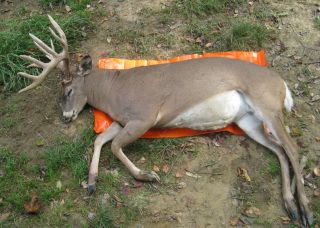 Guarantee:
• We value each and every customer and want to foster long term relationships with you all. So if you are not satisfied with our product, then contact us. We will stand behind our product with a replacement or refund, at our discretion.