The first deer of the year for our sponsored teams goes to:
13 year old Collin Hohman
And don't forget to click 'LIKE' if you want to see more great information like this!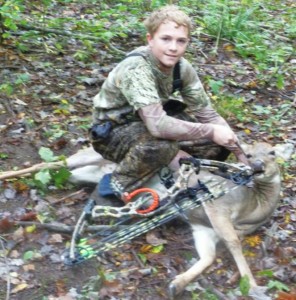 Collin Hohman was born in the outdoors.  He has been hunting and fishing his whole life.  He got into bow hunting 3 years ago and here is his first deer with a bow.
Colin told us that he had to drag the deer up 2 hills before field dressing it, so the Game Glide came in handy!  We love helping all generations of hunters enjoy their days in the field as much as possible (especially the young-uns!)…
He shot her at 31 yards with his Hoyt bow it was recorded and is currently on YouTube.
Check out and congratulate young Collin on his You Tube site:  http://www.youtube.com/hoytbonecollector