Trip to The Wilderness PA with the Game Glide deer sled

Last weekend a couple of us took a trip out to The Wilderness PA hunting ranch in Everett, PA.  Adam and the rest of the staff at there showed us a really great time.  Thank you very much!
The purpose of the trip was to use our deer sled during one of their Ram Hunts and to get some photos and video of the Game Glide deer drag sled in use.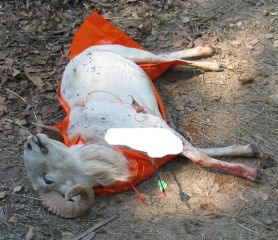 So, while we were there we had the opportunity to use our the Game Glide on a couple of great Rams.   When designing the Game Glide deer sled, we sized it to fit anything between a small doe to a huge trophy buck.  We wanted to show that it would accomodate a good sized Ram.  And it worked great as shown in the video! 
If you get a chance, check out The Wilderness PA:  www.thewildernesspa.com
Some information from their website is that:  They have two modern 6,000 square foot lodges that will step you back in time. Both lodges comfortably sleep up to 18 hunters.  During their normal busy season they have 100+ Rams, 120+ Hogs of all sizes from 150 pounds to 900 pounds, Fallow Deer, Sika Deer, 40+ super Whitetail Bucks, Elk, 20+ Red Stags, 15 Buffalo, Whitetail Does, Sika Does, Water buffalo, Texas Long horns from 3 to 6 feet wide.